You are here: Homepage / Members
Cast
Alice Konečná - Vocals

Alice has began her career when she was thirteen years old. Her first success was the first place at the singing competition Golden Note in 1998. In 2000 she has made it into the final round of the popular singing competition Zlíntalent and during the next two years participated in several international festivals and won many awards. Alice has competed at following festivals: Children International Nile Song Festival in Egypt, The Golden Star in Romania, Bulgaria Discovery Festival, International Festival of TV Malta Song and Voice of Asia in Kazakhstan.

In September 2003, she has sung as a guest at the Elán's mega-concert in Prague.

The first album she has sang on was project "Co láska si žádá" with the music written by successful American composer Michael Jay. He then along with Ludek Malar prepared her debut album "Holka, co máš ji rád". Then Alice featured in the special programme called Great musical show. At the beginning of 2003 had moved to Los Angeles to record her second album and signed a contract with Sony Music. Her second solo album "Věrně nevěrná" was then released in January 2004 and in October of the same year has been also released an English version called "Girl".
Alice has won twice the Czech chart on the radio Čro1 Radiožurnál with the songs "Noc je hráč" and "Proč ráda tě mám".

In 2007 has Alice become the part of the project Le Monde with the American rapper Derrick Wilson and producer Peter Fider. They have released one album which included a number one hit "Vzducholoď" and were nominated for prestigous Czech music award Angel in the category Best new act. Alice left the project the following year and got the role as a Fulvie in the successful musical Cleopatra.


Pepa Holásek - vocals, acoustic and electric guitar, drums

During the seventies was one of the co-founders of the band DYNAMIC and later had been member of the band TENDENCE. In both band had played as a singing drummer. He was 22 years old when he has started his professional music career in popular group HOROSKOP. After signing the contract with the swiss agency Bugra Production In 1980, the band had started their foreign residency in Switzerland, which has lasted nearly 11 years. The band has disbanded in 1990 and from the following year Pepa has began to play in Germany with the band Strangers. Time to time you can also see him playing in Czech Republic with the bands Slowhand and Yeště To Yde.


Ludek Malar - vocals, percussions, guitar

After graduating from music school where he was studying violin and guitar, Ludek had played with several rock groups during the seventies, usually playing bass guitar and singing. He has became professional musician at the age 23 and started to play with the band Horoskop. The year was 1980 and the band had signed the contract with the swiss agency Bugra Production and spent the next ten years playing in music clubs in Switzerland. After the Velvet Revolution he had ended his career as a professional musician and started to work in computer business.

In the fall of 1995 together with František Hrnčiřík has established music agency EMP Music, which was supposed to focus on young musicians and singers. They would also renew the traditional Czech music festival for young singers and song-writers in Zlín called Zlíntalent (originally Intertalent). The festival still exists under the name Czechtalent and Ludek serves as the president of the competition. Between the years 1999 and 2004 there also has been international music festival in Prague called Universetalent and during these years was Ludek being regularly invited to be a part of the jury at international festivals for young talents such as Malta, Bulgaria, Romania or Egypt. In 2001 he has became a member of the international jury for IMTA, which is one of the largest talent shows for young models, actors and singers.

He has been also succesful as a music producer and discovered succesful artists such as Tomáš Klus, Dasha, Alice and Markéta Poulíčková. He has produced albums for Tomáš Klus (Cesta do záhu(d) a Hlavní uzávěr splýnu – both albums has been certified gold), Dasha, Alice, Tom Malar (album Sexational with number one hit of the same name) and Premier. In total he has produced over 20 albums.


Ondřej Svačina - Guitar

Ondřej has graduated from the Janáček's Conservatory in Ostrava (classical and jazz guitar) and played in Ostrava's and Zlín's philharmonic and also in Abba tribute band revival. Currently teaches classical guitar at the Janaček's conservatory in Ostrava and is a member of the bands AKT (kytarovetrio.cz), Tři tuny, Nový rumpál and the Rebel group (providing educational concerts for young people).


Radek Postava - Bass

Radek has graduated from the conservatory in Kroměříž (violin). He used to be part of the Big Band Zlin and also member of the Deep Purple and ABBA tribute bands where he had played the electric guitar and bass. Radek is mainly interested in projects, where he can play different genres (such as Ještěrrock or Grapefruit), works as a teacher (teaching violin, viola, electric guitar and bass) at the music school ZUŠ Zlin - Malenovice and is a member of the group Showband, where he plays guitar, violin, flute, bass and percussions.


Peter Holásek - Drums

Petr has also graduated from the Conservatory in Kroměříž (drums). He used to be a drummer in the band Claim, in the popular musical Balada pro banditu in City Theatre in Zlín and member of the band accompanying Alice Konečná at her annual christmas concert. As a percussisonist has participated in the recording session for the first Tomáš Klus album and besides that has been collaborating with Vladimír Franc on the recoding of the music from the theatrical play Věc Makropulos for the theater in Hradec Králové. Currently teaches drums at the music school in Zlin, in Vsetín and in Horní Lideč.
He has toured Europe with the Deep Purple tribute band where he still serves as the drummer.


Eva Vildová - keyboards

Eva has graduated from the Pedagogical faculty of J.E. Purkyně University in Ústí nad Labem. She used to work at the Teplice's conservatory and also in the Theatre of opera and ballet in Ústí nad Labem. For several years she was a member of groups Bel Canto, Romance and girls' choir UJEP, with whom she participated at many national and international festivals and competitions. She used to teach piano and accompany soloists and ensembles of various musical genres. She has also hepled to establish Film orchestra FOMV and the group HOBBY.
Currently Eva works as an accompanist at the music school ZUŠ Morava Zlín, performs with the trio DOEMI and participates in various music projects in Zlín and its surroundings.

Contact Form
* Items marked with asterisk must be filled.
List of comments
Insert comment
* Items marked with asterisk must be filled.
Welcome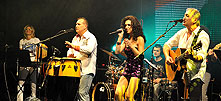 Welcome to the website of the group of the great musicians who are working together under the name 80' Factory.
more info